What's New for the 2021 Ford Mustang Mach-E?

The 2021 Ford Mustang Mach-E is an all-new design from Ford. "Electric and exhilarating" is Ford's apt description for this Mustang, which is proud to be one of the brand's first editions to the Mustang family in over 50 years. The Mach-E has all the power, charisma, and stamina of any classic Mustang. Still, it's also the most environmentally-friendly of the lot, appealing to an even broader range of consumers than before. The Mach-E includes a lineup of a convertible, sports coupe, and SUV edition. There are regular trim levels, and special edition trims within the group. More in-car technology and a new infotainment system are highlights of the Mach-E, regardless of the body style you choose. A distinctive "Mustang" look is a highlight of the Mach-E, complete with a long, powerful, sculpted hood, a rear-haunch design, signature tri-bar taillights, and aggressive, sporty headlights. Inside, the Ford features plenty of interior space and a generous cargo storage capacity. Technology in the Mach-E includes Ford's innovative SYNC infotainment system and communications features. The Mach-E also gets a 15.5-inch infotainment screen, which is among the largest in its class, that has a sleek, user-friendly interface with memory settings. This novel interface is also exceptionally user-friendly with the ability to recognize touch, pinch, and swipe commands.

Since it's the first electric edition of the Mustang family, the Mach-E naturally has a different engine composition. This Mustang has combined gasoline and electric powertrain system that provides all the benefits of a fuel-saving vehicle while still producing plenty of power. The Mach-E features a series of engines, including a powerful GT that reaches 60 MPH in three seconds and rivals some of the most powerful vehicles on the market. The maximum expected power output with the 2020 Ford Mach-E comes out to approximately 460 HP and 612 LB-FT of torque. The Mach-E's engine pairs with several driving modes, including Engage, Whisper, and Unbridled, to match your performance preferences and current driving conditions.

Along with multiple driving modes, the Mach-E also has a new electric all-wheel-drive powertrain system. This sophisticated system produces torque to the front and rear axles independently. It also provides impressive levels of acceleration and improves handling over the rear-wheel drivetrain.
 

Schedule a Test Drive of the 2021 Ford Mustang Mach-E

As the world waits in anticipation of the 2020 Ford Mustang Mach-E debut, we are preparing to let customers arrange test drives. Contact us to learn more about the upcoming newest Mustang and its projected arrival.
2021 Mustang Mach-E Trim Specifications





Panoramic Roof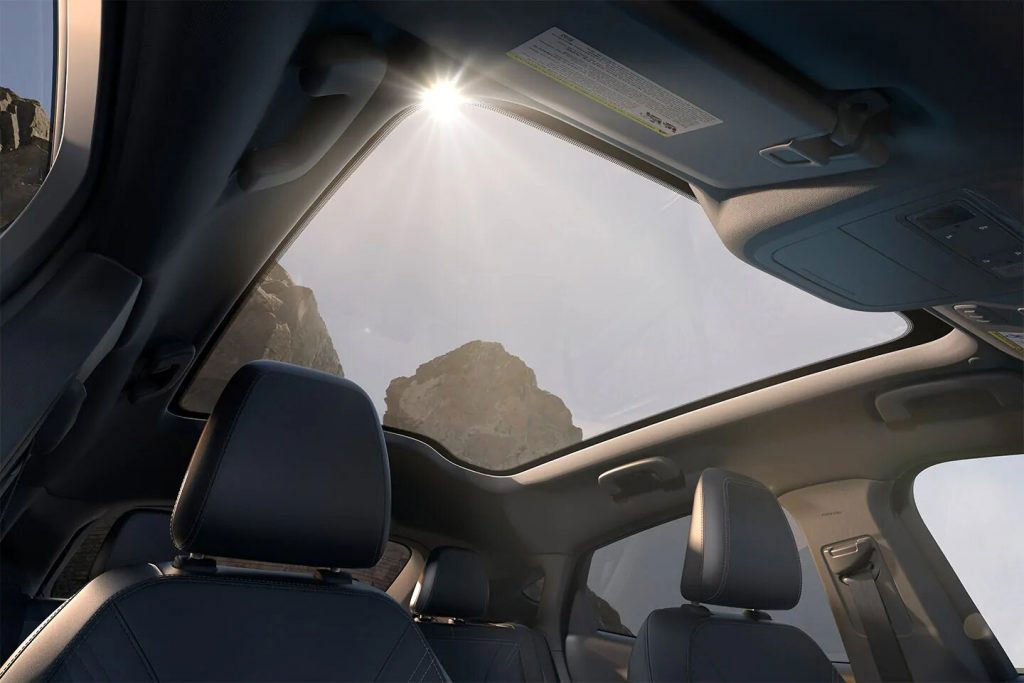 The Panoramic Fixed Glass Roof opens the Mustang Mach-E up to stunning views of the sky and the world around you.
Lit Charging Port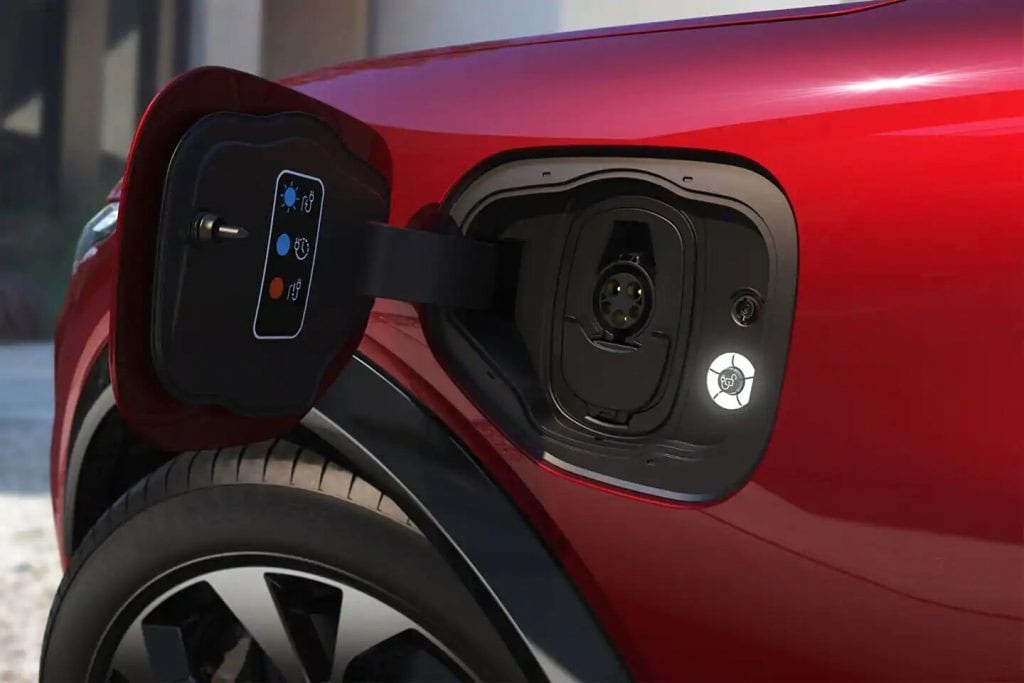 You won't have to fumble in the dark to find the Mustang Mach-E's charging port. The lit charging port keeps charging safe and hassle-free.
Touchscreen Control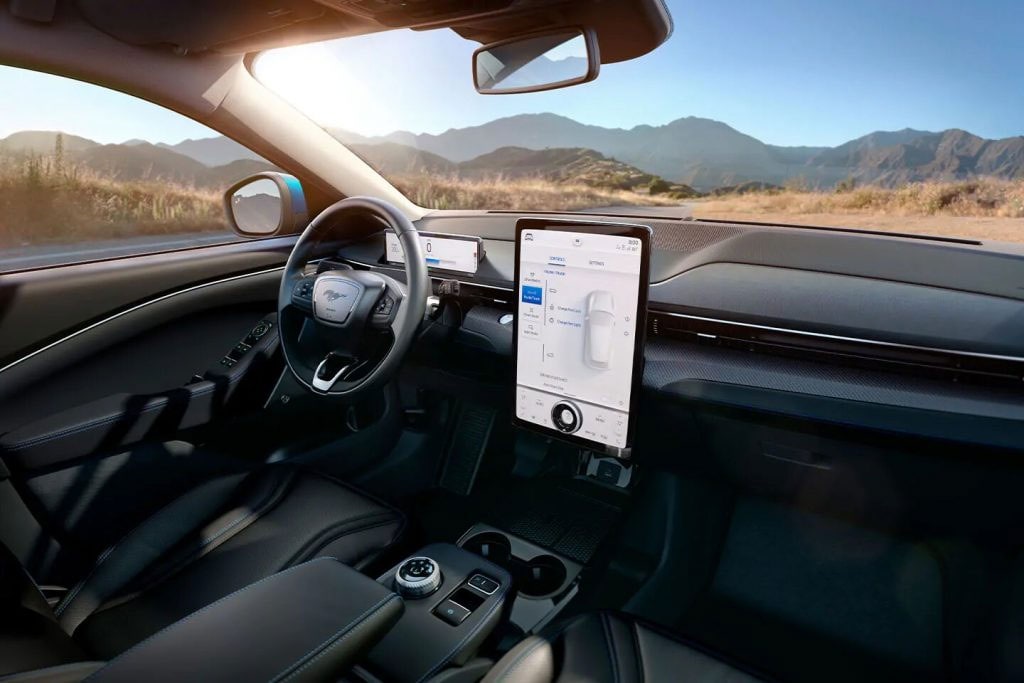 The extra-large 15.5-inch touchscreen is easy to see and easy to use, so you can stay connected and keep your eyes on the road.
B & O Sound System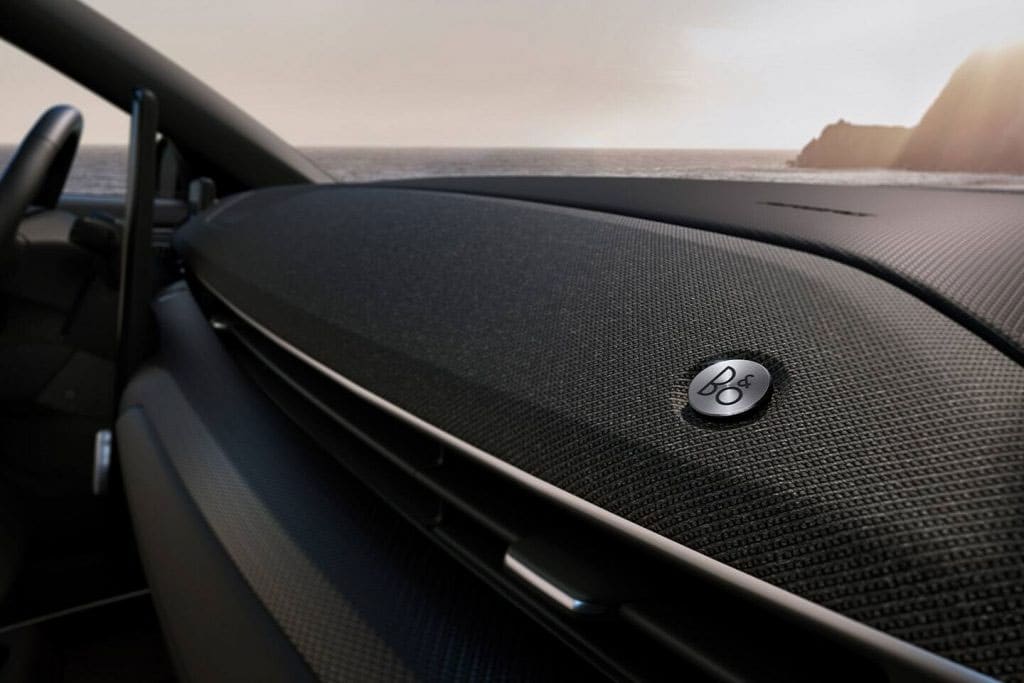 This stunning sound system features 10 speakers and a unique sound bar with surround sound, so your music will sound crisp and clear.
Command Center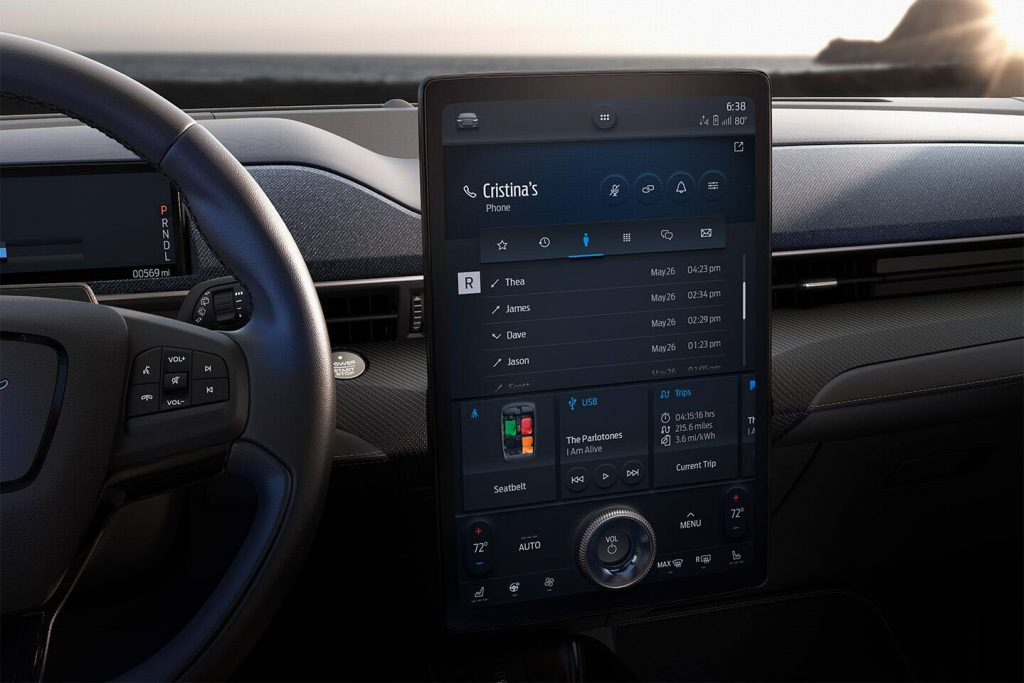 The Command Center is easy to reach, and it features an intelligent, adaptive, and user-friendly experience.
Wireless Charging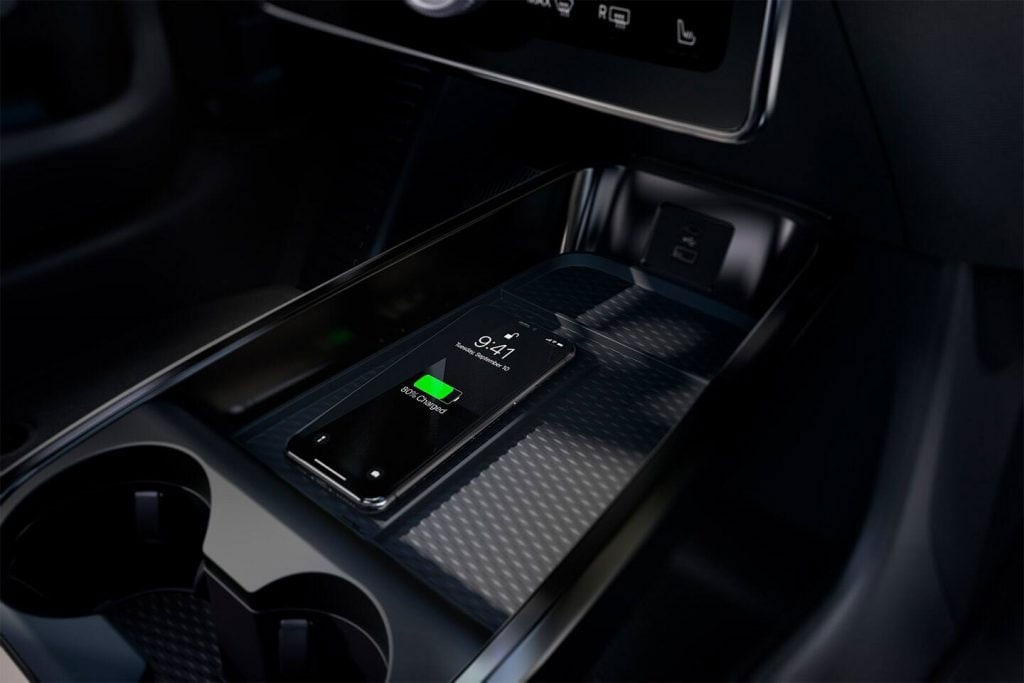 Keep your phone charged up without having to fumble with a charging cord. Just set your phone down, and let it power up.
Ample Legroom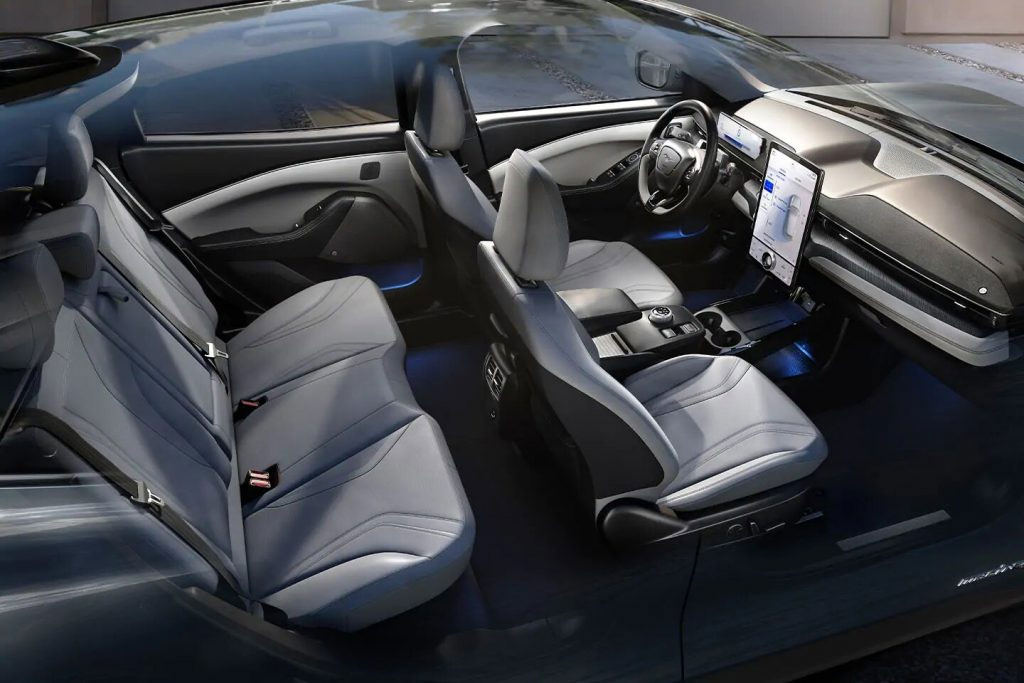 Passengers in both the front seats and second row will enjoy plenty of legroom in the Mustang Mach-E's spacious cabin.
Mood Lighting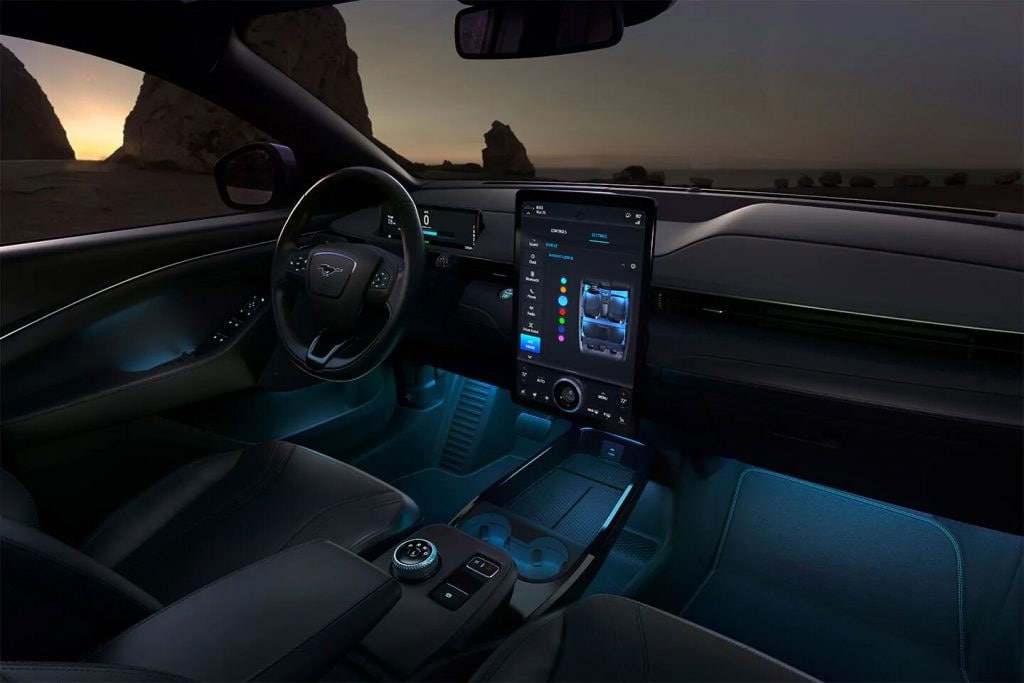 A total of 7 available lighting shades set the mood. Colors include: Ice Blue, Purple, Orange, Green, Soft Blue, Red, and Blue.
Signature Tail Lights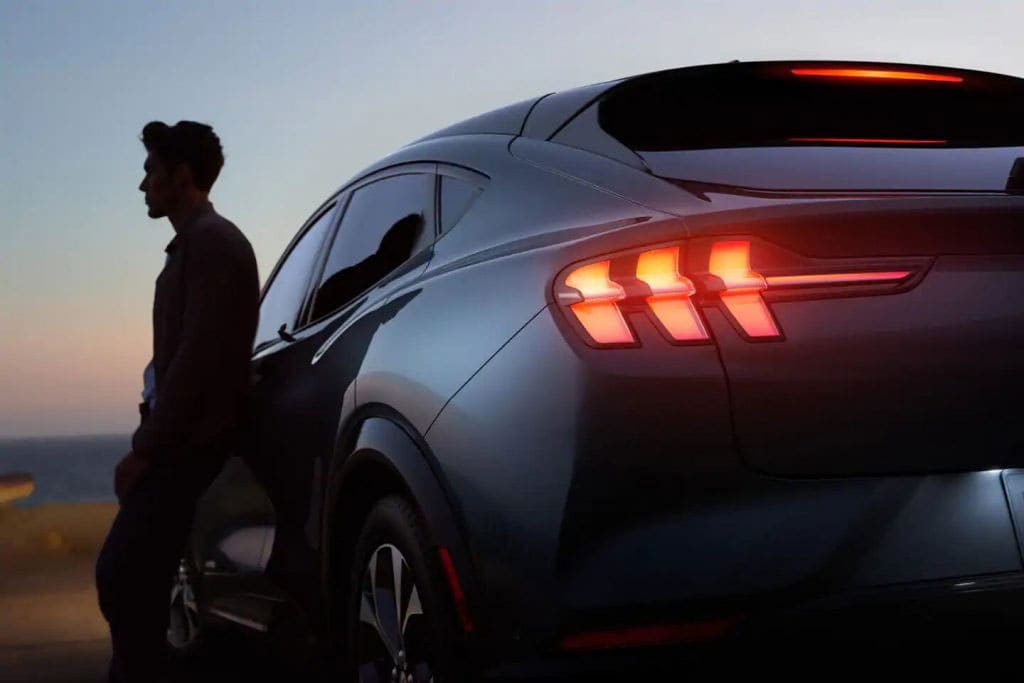 The Mach-E's Mustang heritage is reflected in the signature tri-bar sequential LED taillights, especially at night.
Iconic Badging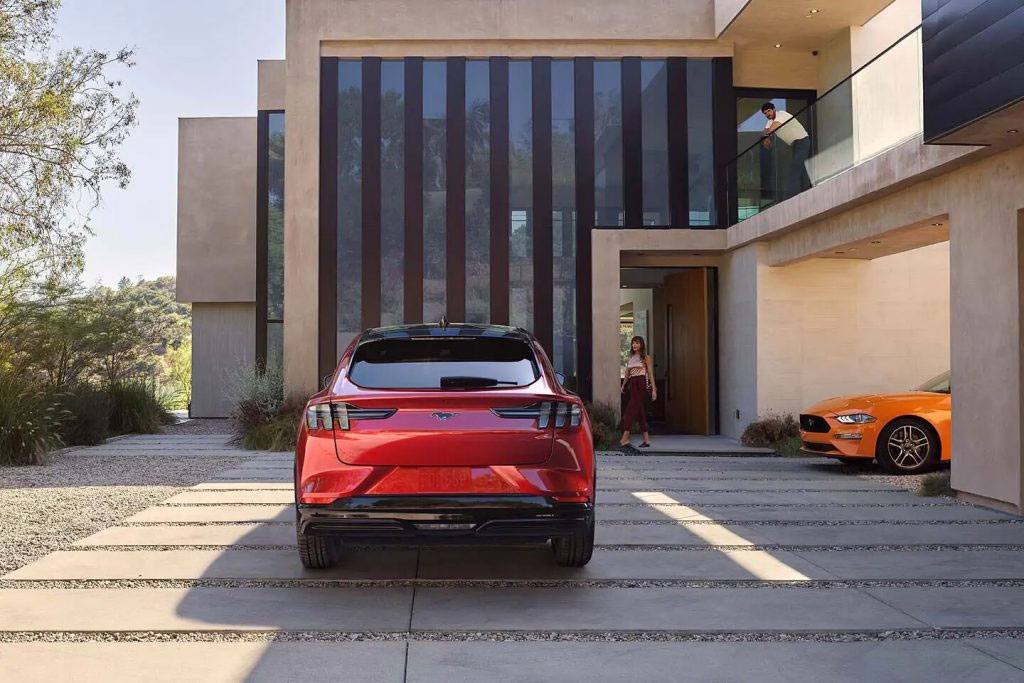 Performance is at the heart of the Mach-E, and that's reflected in its iconic Mustang "Pony" badging featured on the front and back.
Storage Options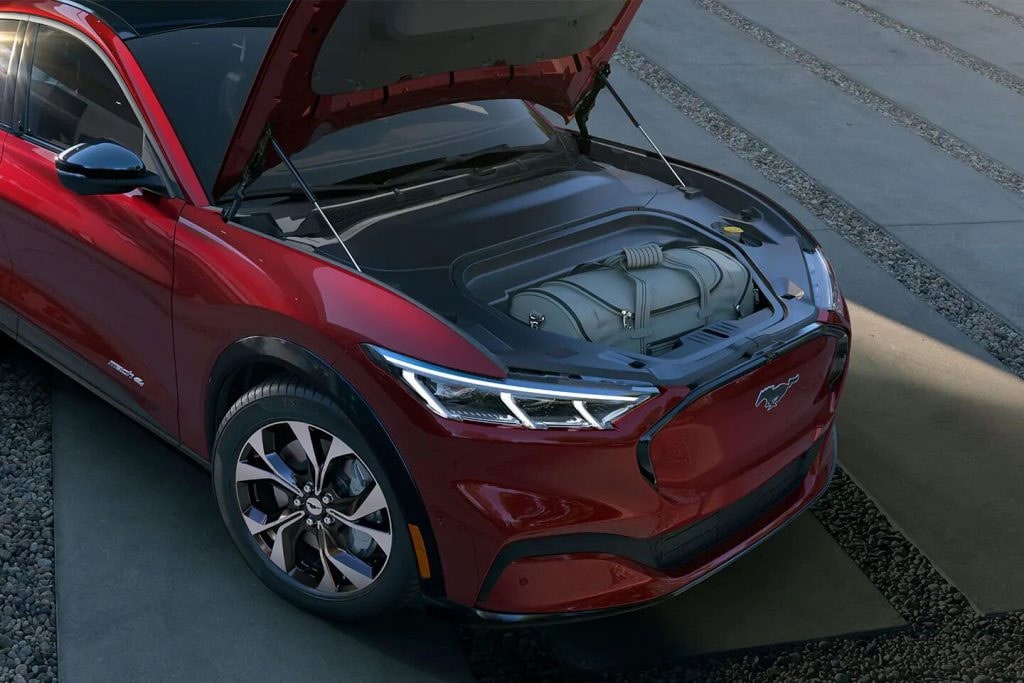 In addition to the rear cargo space, there's also a water-resistant front trunk, which is washable and has a built-in drain.
Intelligent Door Handles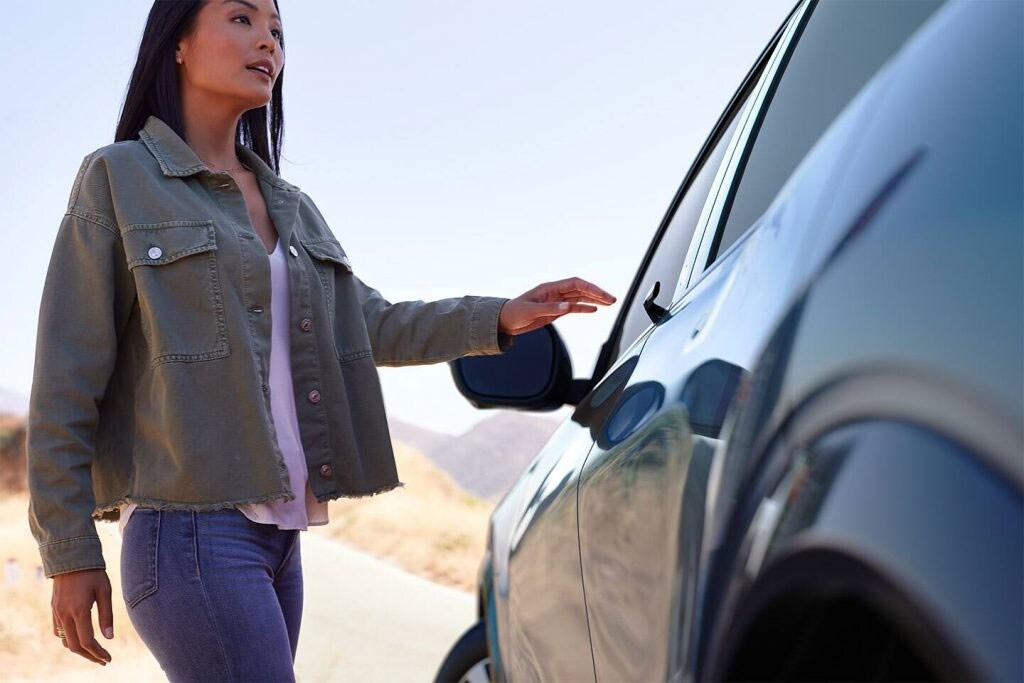 The Mustang Mach-E features E-latch, which senses when your key is near and lets you unlock the door simply by touching it.
* Total Est. MSRP (excludes $1,100 in Destination & Delivery). Not Including $7,500 Federal Tax Credit.
** Based on full charge with the standard range battery and rear wheel drive. Actual range varies with conditions, such as external elements, driving behaviors, vehicle maintenance, and lithium-ion battery age. Final EPA-estimated ratings available in the 2020 calendar year.
Based on manufacturer calculation using computer engineering simulations. Your results may vary. Mid-5-second range achieved with standard range battery and all-wheel drive.
Reserve Your Mustang Mach-E